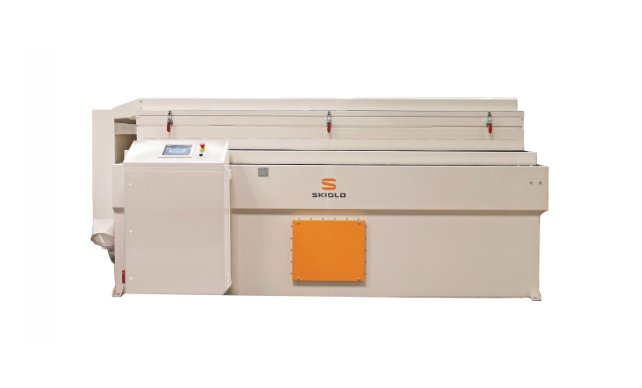 In the DAMAS ZETA, a highly effective fan produces a pressurized airflow through the deck. The unique design of the deck results in an extremely even air distribution and a perfect fluidisation of the grain/air mix and a superbly efficient grading of the grain or seed material.
Due to the unique construction of the deck, perfect air distributing is achieved with just one fan in the entire machine. This means that adjusting the air flow is perfectly straightforward.
Damas Zeta - easy to operate
This new version of the ZETA is designed for manual or fully automated touch screen operation of all functions, with 100 program memories allowing very fast and easy adjustment. There are two user levels, which makes it possible to differ between daily operators to technical super-users. The control unit comes in three versions, basic, advanced and advanced+.
Frequency motors ensure that the chosen setting remains exactly as selected – no further adjustment is needed. During maintenance and deck changing, only the top deck needs to be changed, which significantly reduces downtime.
Installation of the machine is very easy as only main power supply is needed for the built-in control box. All internal power supplies are pre-wired and incorporating deck drive inverter, fan drive inverter, starters, overloads and cable to the external control panel of the machine.
The DAMAS ZETA is available with half or full dust hood and with several deck types for different products.
Damas zeta - study industrial design
The DAMAS ZETA is designed for heavy industrial use with a minimum of vibrations transmitted to the supports or the floor construction.